Emmy-nominated Nicole Forester (Cassie Winslow) has opted to leave Guiding Light. The actress' exit is effective immediately, but Forrester's alter ego will remain on-screen for the next few months.
Forester's exit from Guiding Light will no doubt pose another challenge to a show still reeling from the earlier exits of other big-name talent. While fans may be upset that Forester has left the long-running CBS soap, the actress states that her exit was brought about by some very big news.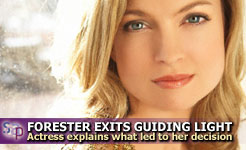 "Yes, it's true!" the actress said in a statement that confirmed her departure. "I am getting married in October, and I am expecting a baby in February! I am so happy and excited about embarking on these two most wonderful adventures, and I'm so grateful to have some extra time now to embrace them fully."
It's said that Forester made the decision to exit Guiding Light when her contract expired last month, but the actress agreed to stick around longer to allow the show to wrap up her character's storylines. It remains unclear at this time if the show will recast the role.
If show execs do decide to recast Cassie, it will not be the first time that the show has had to do so. Forester assumed the role of Cassie Winslow in November 2005 after actress Laura Wright accepted an offer to join the cast of General Hospital. While a newcomer to daytime at the time, Forester had several motion pictures and a handful of primetime guest spots already under her belt.
Earlier this year, Forester received her first Daytime Emmy nomination.
"Working at Guiding Light, with everyone in the cast, crew, and production sides, has been one of the most rewarding experiences of my career. I couldn't ask for a better work family. And to the fans: A huge THANK YOU for cheering me on and embracing me as your Cassie! I wish you all the warmth and joy that you have shared with me over these past three years!"
Forester's last day on the job was September 26th. She will last air on November 4th. The role of Cassie will not be recast.
Photo: Bleacher & Everard/PGP