Emmy nom John Driscoll is leaving Springfield
by
Dan J Kroll

Posted Saturday, January 24, 2009 1:24:40 PM

John Driscoll's four-year run as Henry "Coop" Bradshaw is coming to an end. The actor, who has been pre-nominated for a Daytime Emmy on numerous occasions, will see his time in Springfield draw to a close as part of a storyline that involves the return of Phillip Spaulding.
John Driscoll (Coop Bradshaw) will be leaving Guiding Light in the weeks ahead. His exit is storyline-dictated and will tie in directly to the return of Grant Aleksander.



During his four years with Guiding Light, Driscoll received four consecutive pre-nominations for the Outstanding Younger Actor Daytime Emmy.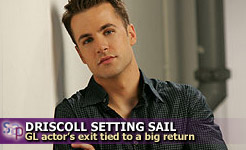 Driscoll worked as a model for Versace and Giorgio Armani. While modeling, Driscoll successfully transitioned to the stage and appeared in a handful of musical theater productions. It was only a matter of time before the actor found success on the small screen. Prior to joining the daytime community, Driscoll appeared on several primetime drama series, including the controversial The Book of Daniel, Dawson's Creek, One Tree Hill, and the short-lived WB series, Young Americans.



A final airdate for Driscoll has not yet been announced.





RELATED STORY
Grant Aleksander to return to Guiding Light. [Nov 10, 2008]
---