On a day typically rife with practical jokes, the macabre sense of timing couldn't have been more painful. CBS officially announced today that it was cutting power to its longest running drama series. Come September, Guiding Light will officially be off the air.
"Being on the air for more than seven decades is truly remarkable, and it will be difficult for all of us at the show to say goodbye," said executive producer Ellen Wheeler. "I'm proud of everything we've been able to do, including outstanding storytelling, our community service around the country with Find Your Light and the launch of our new production model. This show has such a rich history, wonderful fans, and I'm honored to have been a part of the GL legacy."
"No show in daytime or primetime, or anytime, has touched so many millions of viewers across so many years as Guiding Light," added Barbara Bloom, Senior Vice President, Daytime Programs, CBS.
"Guiding Light has achieved a piece of television history that will never be matched; it has crossed mediums, adapted its stories to decades of social change and woven its way through generations of audiences like no other," said Nancy Tellem, president, CBS Paramount Network Television Entertainment Group. "This daytime icon will always be an indelible part of CBS' history, with a legacy of innovation and reputation for quality and excellence at every step of the way. While its presence will be missed, its contributions will always be celebrated and never be forgotten."
The news of Guiding Light's cancellation has hit the cast and crew hard. In recent weeks the atmosphere at the show has been decidedly upbeat as it was widely expected that CBS would renew the show for another year. In fact, during Guiding Light's recent on-location shoot, several show sources told Soap Central that the Bloom had assured them that show's renewal was virtually a done deal.
According to soap site Daytime Confidential, "The decision came from above Barbara Bloom's head. She was telling the truth when she told Ellen [Wheeler] and [GL's production company] TeleNext [that] she thought they would be renewed."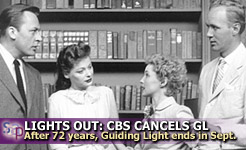 Still, there is a slight glimmer of hope... a flickering of the light, if you will. According to industry publication, TV Week, "Procter & Gamble, which produces the show, is not giving up on [Guiding Light], however. The company said it will explore other possibilities for keeping the show alive. An online version and a cable network are both possibilities."
Meanwhile, TV Week is also reporting that Guiding Light might be replaced by an updated version of the game show, $25,000 Pyramid, or a new talk show.
"We are honored to have been welcomed into the homes of multiple generations of Guiding Light viewers," said Brian T. Cahill, Senior Vice President and Managing Director, TeleNext Media, Inc. "We are working hard to find the show a new home, and we are exploring all our options to continue to bring loyal fans the characters and stories they love."
Whether a new home can be found for Guiding Light remains to be seen. NBC was successfully able to move Passions to satellite television provider, DirecTV, when it cancelled the show in 2007. The show, which at its cancellation had ratings comparable to Guiding Light's current ratings, survived for just one season on DirecTV. Other options being batted around include transforming Guiding Light into a web-only series or shopping the show to another network.
Guiding Light debuted as a 15-minute radio show in 1937. 15 years later it transitioned to the "new media" of the time, television. The show began broadcasting in color in the spring of 1967, expanded to 30 minutes the following year, and to a full hour in 1977.
Over the years, the show has been a pioneer in broadcasting. In 1966, Guiding Light was the first show to introduce leading African-American characters. In 2005, the show offered audio-only podcasts for viewers who were unable to watch. Last year, the show revolutionized its entire production model, representing an end-to-end transformation in the way the show is created, from direction to editing to scenic design. This new innovation enabled the show to be completely portable, changing the face of daytime.
For now, the final episode of Guiding Light will air on CBS on September 18.