At least one Guiding Light star will not be with the show for its finale on September 18. TVGuide Canada is reporting that two-time Emmy winner Gina Tognoni (Dinah Marler) has officially left the building. The actress' contract with Guiding Light expired earlier this month and the actress did not extend her stay through the series' last episode.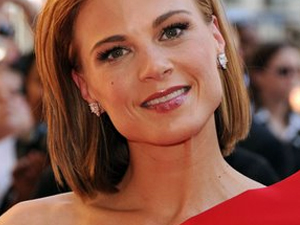 "The former One Life to Live actress refused to extend her GL contract until the finale on September 18," the Sud Report's Nelson Branco reveals. "At the very last minute, GL had to re-write long-term story to accommodate Tognoni's decision to quit her popular role. There is no word yet as to why she didn't re-sign with the cancelled soap."
Insiders are speculating that Tognoni has already reached a deal with another show regarding post-Guiding Light employment. As previously reported by Soap Central, Tognoni has expressed an interest in remaining in New York. Talks with Tognoni's previous daytime home, ABC's One Life to Live, reportedly broke down because the actress' requested salary was too high.
With Guiding Light ending in September, Tognoni was viewed by many media experts as the brass ring and a number of shows expressed an interest in signing the actress to a long-term contract. Upon GL's end, there will be just two soaps filmed in New York, and it's unclear if either of those soaps -- All My Children and As the World Turns -- have made overtures to Tognoni. As the World Turns is also produced by Procter & Gamble's TeleNext, so it doesn't seem likely that Tognoni would join one P&G soap at the expense of the other.
Tognoni would not have had to spend too much more time in Springfield. Guiding Light executives have informed the cast and crew that the show will go dark on August 14. After that time, all GL stars will be free to seek out other employment.