Sherri Saum will join the cast of One Life to Live later this month in the role of Keri Reynolds.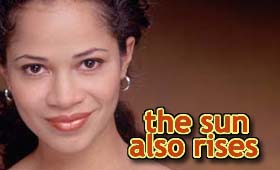 According the OLTL casting news, Saum will fill a void left by the exit of Erika Page (Roseanne). Saum's character is a professional at Llanview Unversity and will soon find herself involved - perhaps more than professionally - with Antonio Vega, played by Kamar de los Reyes.
Saum is no stranger to daytime television. The actress appeared as Vanessa on the now-cancelled NBC soap, Sunset Beach. In addition to that work, she has also appeared on Showtime's Beggars and Choosers and she has also recently wrapped production on Finding Home, an independent film.
Saum makes her OLTL debut on August 31st.