Effective November 4, One Life to Live will have a new head writing team. The change is seen as one of the first signs of change under ABC Daytime's new president Brian Frons.
Three-time Daytime Emmy winner Josh Griffith has been named the show's head writer. Joining him as a creative consultant for the show is Michael Malone. While some shows undergo periods of "adjustment" while a new writing regime familiarizes itself with the show, its history and its characters, Griffith and Malone both have the advantage of having already served on the show. From 1991 to 1996, Griffith and Malone served as head writer and co-head writer on One Life to Live.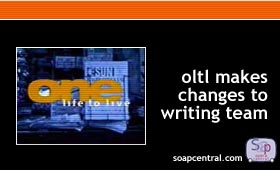 Griffith and Malone's previous tenure at One Life to Live earned the show critical success and garnered several high-profile awards. The pair was responsible for penning a 1993 storyline of a teenage boy's coming to terms with his homosexuality. As the storyline progressed, it tackled homophobia and touched on the AIDS epidemic. That same year the AIDS Quilt visited the fictional town of Llanview. The storyline, which served a launching pad for actor Ryan Phillippe (ex-Billy Douglas), earned a GLAAD (Gay and Lesbian Alliance Against Defamation) Award the same year.
In 1994, One Life to Live explored one of its most famous storylines: the rape of Marty Saybrooke. The storyline earned Daytime Emmy Awards for Hilary B. Smith (Nora Buchanan), Susan Haskell (Marty Saybrooke) and Roger Howarth (Todd Manning).
Marty Saybrooke's gang rape storyline earned a Daytime Emmy for Outstanding Writing in a Daytime Serial. Malone and the rest of the One Life to Live writing team were also nominated in the same category in 1992 and 1995.
In a statement, Malone expressed his happiness to be back with the show.
"I am proud to welcome Josh and Michael back to One Life To Live," said ABC Daytime President Brian Frons. Frons said he expects "quality, diverse stories leveraging the strengths that exist on the [show's] canvas."
The changes come just months after One Life to Live earned its very first Daytime Emmy Award as Outstanding Drama Series. The show's writing team was also nominated for Outstanding Writing Team.