After months of will-he-or-won't-he rumors, Soap Central has learned that Michael Easton's (John McBain) has signed a new contract that will keep him in Llanview for some time to come. The uncertainty surrounding the star's future at One Life to Live has swirled for much of the summer.
The news should bring about more than a sigh of relief to fans of Easton and his One Life to Live character. If negotiations had broken off, Soap Central has learned that the show was prepared to kill off the character of John McBain. Earlier this year, as talks between the two sides dragged on, the show's writing staff was instructed to script the death of Easton's character. Presumably that storyline would have played out later this month.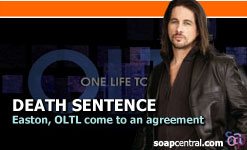 "So here we go again. Got a lot of work to do," Easton said in a statement on his official web site. "Gonna work harder. Dream bigger. And here's to the second time around being even sweeter. Thank you for standing by me, thick and thin, without you this is meaningless. I won't ever forget. With love and respect, Michael."
Easton's announcement also puts to rest speculation that the actor was headed west to join the cast of another soap. As talk of his possible One Life to Live exit heated up on Internet message boards, some fans whispered that Easton's on-screen persona might be shipped off to the join the fictional Port Charles Police Department on ABC's General Hospital. Other rumors had Easton rejoining the cast of Days of our Lives, where he portrayed Tanner Scofield in the early '90s.
Officially, ABC policy does not allow the show to discuss actors' contracts.
Easton joined the cast of One Life to Live in October 2003.