A spokesperson for One Life to Live has ended speculation about Nathaniel Marston's (Michael McBain) future with the ABC soap. Marston has been let go from the show. The actor's dismissal stems from an October altercation in which Marston allegedly assaulted three people, including a police officer. Most industry experts expected that Marston would be fired; the show issued a statement shortly after the incident saying that Marston had been "taken off the schedule" pending an internal review.
"Nathaniel Marston has been a valuable member of the cast of One Life to Live bringing Michael McBain to life for legions of fans," the spokesperson said in a statement. "He leaves the show with our sincere appreciation for his many contributions and our support as he addresses personal challenges. We wish him well."
Marston broke his silence on the matter, issuing a response to ABC's statement on his official web site.
Do you think OLTL made the right decision by releasing Marston?

No. I think ABC should have kept Marston until his court date.
54%
Yes. An employer has the right to fire an employee in this situation.
31%
I don't know, but I am not thrilled that the role of Michael will be recast
8%
I don't think it's right to offer an opinion on this type of situation.
3%
I wasn't a fan of Marston, so the recast is actually good news for me.
3%
Other
1%
Poll Posted: November 9, 2007
"Now that ABC has officially commented, I can confirm that I have been let go from One Life To Live. I don't think of this as an ending, but rather the beginning of a new chapter in my life. Your support and encouragement have meant the world to me and have buoyed my spirits in a trying time," Marston stated. "I know that my absence from the show will be a disappointment to many of you, so if you're upset by this turn of events, let the decision-makers at ABC hear your voice. I would also like to thank those of my co-workers at One Life To Live who took the time to get in touch with me to offer [their] friendship and prayers. You know who you are and let me just say that you are amazing people and I will never forget your compassion."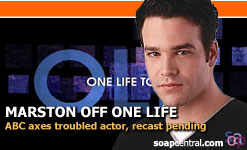 According to eyewitness accounts, at 4:50am on October 21 at 4:50am, Marston allegedly assaulted several bystanders with a metal crate. The attack was reportedly unprovoked and an arresting officer labeled the actor an "emotionally disturbed person" before Marston was admitted to the hospital. Marston was subsequently charged with 11 different charges, including assault, resisting arrest and reckless endangerment. He is scheduled to appear in criminal court on February 4, 2008.
Meanwhile, One Life to Live moved at a frenzied pace to recast Michael as soon as possible. With the current strike by writers, rewriting scripts to explain Michael's sudden disappearance would be unrealistic and nearly impossible. The show offered no comment on its plans for the role of Michael McBain.
Chris Stack will take over as Michael on December 3 -- at least temporarily. Stack appeared as Walt on a few episodes of As the World Turns in 2006. He's also appeared in a handful of feature films. It is unclear if Stack will simply fill in until the show is able to find a permanent replacement or if the actor has been hired to finish out the character's storyline and allow the writers the opportunity to write out the character.
Meanwhile, Marston airs for the final time on November 29.