Less than two years after her last appearance, the Queen of Hip Hop Soul is returning to Llanview. Grammy-winning recording artist Mary J. Blige took to the ABC soap's Manhattan studios today to recording a special cameo that will air during the February Sweeps period.
"Mary J. Blige is one of the most prominent and powerful voices in the music industry," said executive producer Frank Valentini. "She is an inspiration in both her music and her life, and we are thrilled to welcome her back to One Life to Live."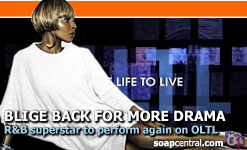 Accompanied by her band, the 37-year-old Blige will perform two tracks off of her latest album, "Growing Pains." The first song is the album's first single, the Grammy-nominated "Just Fine." For the second performance, Blige will cool things off a bit with the slower tempo, "Hurt Again."
Released on December 21st, 2007, "Growing Pains" sold 629,000 copies in its first week of release. The album was Blige's eighth #1 CD on Billboard's Top R&B/Hip-Hop Albums chart and fourth chart topper on the Billboard 200 chart.
"It's absolutely amazing to be integrated into a soap opera I've watched since I was a little girl," Blige said in a statement. "I am beyond thrilled to be welcomed back again."
Blige last appeared at the fictional Llanview club, Capricorn, in July 2006. This time around, Blige will appear as a surprise guest as Starr Manning's Sweet Sixteen birthday party. She will appear in two episodes, airing Friday, February 15th and Monday, February 18th.