Emmy-winning actor A Martinez (Ray Montez), who joined the cast of One Life to Live on September 10, has taped what could be his final episode with the ABC soap. Martinez's arrival was trumpeted by the network as a major casting coup, but it now appears that Martinez's time in Llanview was never intended to be long-term.
The actor recently wrapped up his stay with the ABC soap.
Ray's appearance in Llanview seems designed to usher in the arrival of two other characters: Ray's wife, Vanessa, and his daughter, Lola. As previously reported by Soap Central, Vanessa will be played by Jacqueline Hendy. The role of Lola has just recently been cast, with newcomer Camila Banus landing the part. Banus is a veteran of at least one telenovela, but this will be her first American soap appearance. Vanessa, a show insider whispers, will eventually be paired up with Cristian Vega.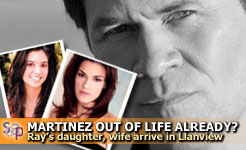 Meanwhile, fans are already expressing disappointment about the imminent departure of Martinez. The actor was greeted at this year's One Life to Live Fan Club Luncheon with a standing ovation. At no time was it indicated that the actor would be exiting in just five weeks.
TVGuide reports that Martinez may return at a later date, if he is available and if storyline warrants a return.
Hendy makes her first appearance on September 16th. Banus debuts on October 3rd.