ABC is now confirming a report made by Soap Central in October: Snoop Dogg will return to One Life to Live in 2010. The multi-talented entertainer, who acted, performed, and sang his own version of the show's opening theme during his last appearance in May 2008, will drop by Llanview as part of a promotional tour for his latest album.
And, yes, his remix of the show's theme song will also re-air during his return.
"Snoop Dogg's desire to return to One Life to Live is a tremendous show of support for our show," One Life to Live's executive producer Frank Valentini said in a statement. "His unique contributions to the entertainment industry are vast as a performer, innovator and businessman and we are honored to have him back to perform and act on OLTL. We also welcome the opportunity to once again air his remixed theme song."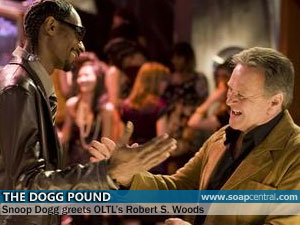 For those who think Snoop's hip-hop style and One Life to Live's melodrama are a bit of an odd pair, it's not quite as strange as you might think. Like so many fans of daytime, Snoop, born Calvin Broadus, got hooked because his mother watched the show.
"As I said when I was here last time, I've been a fan of One Life to Live since I was a baby because my momma always had it on," Snoop explains. "It's cool to come back and hang with Bo Buchanan and the people in Llanview and 'rock out with them.'"
After Mary J. Blige made her second appearance on OLTL in February 2008, longtime fan Snoop Dogg let it be known that he was interested in redoing the theme song. Not only did he remix the theme for the two episodes on which he appeared, but he performed two songs and acted on the show.
In his upcoming return, Snoop will once again act, appearing in scenes with Bo Buchanan (Robert S. Woods), Hillary B. Smith (Nora Buchanan) and Eddie Alderson (Matthew Buchanan). After spending time with Bo and his family, Snoop Dogg will head to Capricorn to perform "I Wanna Rock."
Snoop Dogg released his tenth studio album, Malice N Wonderland, earlier this month. He collaborated with industry hitmakers Teddy Riley, Pharrell, and Lil Jon, and brought in artists R Kelly, Brandy, Jazmine Sullivan, and Soulja Boy for vocal guest appearances.
Snoop Dogg returns to One Life to Live on February 24, 2010.