Lately, when the topic of gay characters in daytime is brought up, many One Life to Live fans immediately think of Kyle Lewis and Oliver Fish. But long before Kish entered the Llanview spectrum, there was another visible gay character in town.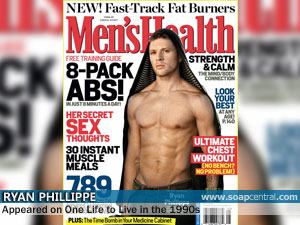 In 1992, a then-unknown Ryan Phillippe appeared on One Life to Live as Billy Douglas, one of daytime's first gay teen characters. At the time, having a gay character was considered somewhat controversial. In an interview, Phillippe admits that he experienced backlash in real life over his fictional role.
"I would worry, 'What will the people at school think?' And they shunned me in a lot of ways," Phillippe told Men's Health magazine. "But it ended up being an incredible experience and such a time of growth for me."
A shirtless Phillippe graces the May 2010 cover of Men's Health. In addition to discussing One Life to Live, he talks about his marriage and subsequent breakup with actress Reese Witherspoon, and getting older.
In addition to posing for magazine covers, Phillippe has several film projects in the works. The action-adventure flick MacGruber is slated for release later this year. The actor will also host Saturday Night Live this weekend.
The May edition of Men's Health goes on sale next week.