Hillary B. Smith inks a new One Life to Live contract
There won't be a coma comeback. Emmy-winning One Life to Live star Hillary B. Smith (Nora Buchanan) has inked another contract with the ABC soap. Smith has been a contract player on One Life to Live since September 1992.
The quiet negotiations are a stark contrast to Smith's past two contract talks. In January 2006, Smith made headlines by announcing that she had almost exited the show. Her character had been in a coma for months, and the Internet was abuzz with rumors that Nora wouldn't pull through. However, during what the actress called a "goodbye chat," she and ABC Daytime President Brian Frons had a "wonderful conversation" that opened the door to additional negotiations. Smith offered to sign a one-year contract to allow the show to prove it had an "interest in writing for Nora."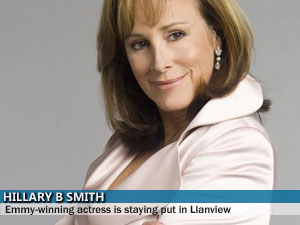 "I was so overwhelmed during the coma by the unbelievable support from the fans," Smith told Soap Central in an interview last year. "I felt so badly that the fans went through all of that. It wasn't fair to them. I am a soap fan, and I would hate to have my watching enjoyment ruined by knowing that a character I loved was being played by a tortured actress. I didn't like that the backstage drama was being played out on the screen. It was upsetting, and soaps should be pure entertainment. My fans are the most beautiful, kind and generous men and women that I have had the pleasure to meet and get to know. The coma had a silver lining; I got to meet a lot of my supportive fans at a luncheon I gave to thank them. We had a blast. I always have them in mind when I go to work."
By the end of 2006, however, Smith surprised fans by announcing a surprising turnabout: the network had offered her a four-year contract extension.
"When I got the call from ABC I sputtered and spewed and said, 'Are you out of your minds? This doesn't make sense!' But I'm very excited," Smith said at the time.
The terms of Smith's new contract were not revealed. However, Smith's fan club president revealed on Twitter that Smith's new contract is a two-year deal.
Are you glad Hillary has re-signed? We want to hear from you -- and there are many ways you can share your thoughts.