To skip over the Dankies summary and instruction and get right to the voting, click here.

NOMINATIONS OVERVIEW
The nominations for this year's first annual Dankies provide quite interesting for One Life to Live. There was no clear-cut favorite, as most of the nominations were divided evenly among several performers.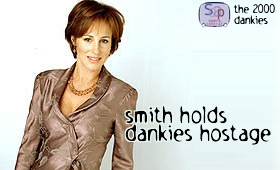 Among the women, Catherine Hickland (Lindsay Rappaport) and Hillary B Smith (Nora Buchanan) nosed to the front of the nominations pack. Hickland earned five honors, including nominations for Favorite and Least Favorite Character (Lindsay Rappaport). Smith earned four nominations. Newcomer Charissa Chamorro (Sophia Pellegrino) garnered a very respectable four nominations.
Among the men, Roger Howarth (Todd Manning) and Ty Treadway (Colin Mac Iver) were the big nominees. Howarth gobbled up four nominations, including Most Attractive Actor and Outstanding Leading Actor. Treadway took three nominations, including Outstanding Supporting Actor and Outstanding Overall Performer.
Nora's kidnapping storyline was honored with several nominations including Favorite Storyline, Least Favorite Storyline and Most Memorable Moment for the scenes in which Nora was finally free from her makeshift prison.
Actress Robin Strasser pulled off a double honor, earing nods for her work as Dorian Lord in the Most Missed Performer category and for
Outstanding Recurring Role or Special Guest as Passions' Hecuba
.
THE FINAL BALLOT IS SET
The first phase of the Dankies balloting took place throughout December and part of January. In this phase all OLTL Online users were asked to offer their choices for the best of the best of One Life to Live over the past year. These users were allowed to nominate any performer or storyline that they felt fit the various categories. When balloting closed, Soap Opera Central tabulated all of the nominations. The top four vote-getters in each category were placed on a final ballot, a ballot for which voting begins today. Additionally, all 16 nominees in the Outstanding and Supporting Actor and Actress categories were placed in an Outstanding Overall Performer category. Voters are asked to choose which of the nominees turned in the best performance over the past twelve months.
STILL AHEAD
Voting on the final ballot will continue through February 9, 2001. At that time voting will close. On February 12th, the winners of the Dankies will be announced on the Soap Opera Central web site. On February 19th, a special "all soap" edition of the Dankies will be held. In this special balloting, the winners of each of categories in all of the ten soap sections of the Soap Central site will compete against one another. Every user of Soap Opera Central will be eligible to vote in the all soaps ballot.
CAST YOUR VOTES
All registered users of the Soap Central site are eligible to vote in the Dankies. Users who are not registered can do so for FREE by visiting our
registration page
. Each user is permitted one vote. Users can contact friends by Email or other Internet sources and point them to the Soap Opera Central web site so that they can vote. Users may cast their votes in as many of the different soap sections as they'd like.
REGISTERED? THEN CLICK HERE TO CAST YOUR VOTES!
---