Out with the old, in with the new. That's the way the saying usually goes. But on One Life to Live lately, it's been more like out with the new, in with the old. That's about to change, though, as two familiar faces return to Llanview in the upcoming weeks.
Three One Life to Live stars have been trimmed from the roster. Kale Browne (Sam), Timothy Gibbs (ex-Kevin) and Ty Treadway (Colin) have either taped their final scenes with the show or will tape their final scenes in the next few weeks.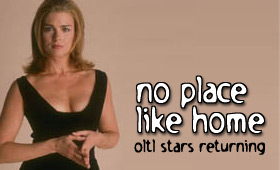 At the same time, though, the show has bolstered its ranks by bringing back two veterans. Just in time for May Sweeps, Fiona Hutchison (Gabrielle Medina Holden) and Tonja Walker (Alex Olanov Hesser) will be rejoining the show. Still other OLTL veterans are rumored to be headed back to Llanview in the near future.
Fiona Hutchison appeared on OLTL as Gabrielle from 1987 to 1991, when Gabrielle was sent to prison. Gabrielle was released from prison off-screen several years ago and Max agreed to let their son, Al ,go and live with her. After leaving OLTL, Hutchison played Jenna Bradshaw Cooper on Guiding Light for several years and appeared last year for a short time as Celia Fraser on As the World Turns. Her first airdate on OLTL will be May 11th.
Tonja Walker played the role of Alex Olanov Hesser Buchanan from 1990 to 1997. Alex was last seen leaving town with bad guy Carlo Hesser. Walker's first airdate will be Friday, May 4th and her return is currently expected to be short-term.
Unlike the previous two additions, the following rumors have no known validity at this point. Robin Strasser (ex-Dorian) is rumored to be considering a return to OLTL this fall. Now that Strasser has finished taping scenes for her role as Hecuba on Passions, the slate is clear for a possible return. There's been no confirmation from Strasser's camp or from the folks at ABC.
Also rumored are possible recasts for the roles of Andy Harrison, Al Holden and Matthew Rappaport. There's no word yet on whether these rumors hold any water either.