According to numerous reports, One Life to Live will soon be bringing back the character of Tina Lord Roberts, a character that hasn't been seen in over half a decade - since her 1995 exit.
From the ways things are looking now, a new actress will be tackling the role. None of the three actresses to have previously played the part will be making the return trip to Llanview.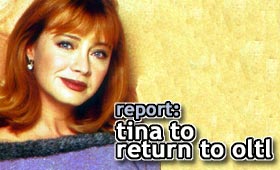 Karen Witter, who played Tina from 1990-1994, and Krista Tesreau, Tina from 1994-1995, have not been invited by the show to re-audition for the part. The best-known Tina, Andrea Evans, is currently not available to make a return to One Life to Live. Evans created the role of Tina in 1978 and remained with the show through 1981 before making a return run from 1985 to 1990. Evans will most likely be unable to return because of commitments to a competing program. Evans is a member of the Passions cast, where she plays Rebecca Hotchkiss. Despite Evans' insistence that she's quite happy with the West Coast NBC soap, there are reports that she is talking with OLTL execs about a possible return.
As for possible new actresses to tackle the role, the name being bandied about the most is that of Sarah Buxton (ex-Annie, Sunset Beach; ex Morgan, The Bold and the Beautiful). A spokesperson for Buxton confirms that the actress is in talks to join the show, but declined to comment on the reports that the actress would play a "new" Tina. The rumors that Buxton would make a good Tina recast came as a result of numerous reports in several soap opera magazines that claimed that Buxton would be the perfect choice for a recast Tina.
ABC has denied the reports that OLTL will be bringing back Tina.