Veteran daytime actor Matthew Ashford (ex-Jack Deveraux, Days of our Lives) will join the cast of One Life to Live next month in the recurring role of Dr. Stephen Haver.

On Days of our Lives, Ashford saw his character bludgeoned to death by a brick-wielding serial killer. Now, on One Life to Live, Ashford will have the chance to avenge the death of his alter ego... well, sort of.

Ashford will play Stephen Haver, a professor at Llanview University specializing in psychiatry and human sexuality. Stephen will be called on to help profile -- and possibly track down -- the so-called Music Box Killer.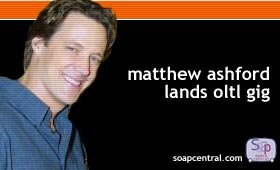 On Days of our Lives, Ashford originated the role of Jack Deveraux in 1987. He remained with the show until 1993 when his character was written off by then-head writer James E. Reilly. Following an eight-year break from the show, Ashford returned to DAYS in February 2001 before being killed off in October - again at the hands of recently reinstated head writer Reilly.

Shortly after Ashford's firing from NBC's Days of our Lives, rumors surfaced that the actor was in talks with a New York-based ABC soap. The bulk of the speculation focused on All My Children, so the news that Ashford has made the jump to One Life to Life is seen as a surprise to some.

Ashford is no stranger to the One Life to Live studio. From 1982 to 1983, several years before Ashford made his mark on Days of our Lives, he appeared on One Life to Live as Drew Ralston.

Ashford's stint with One Life to Live is scheduled to be on a recurring basis, but Ashford admits that his future with the show is "wide-open." Ashford makes his first on-air appearance on December 10th.