Emmy-nominated Kassie DePaiva (Blair Manning) and ABC executives have come to terms on a new contract, Soap Central has learned. DePaiva confirmed the news in a statement on her official web site.
"I have settled my contract with ABC and if they want me... I'll be around for another four years," DePaiva announced. "I love Blair and hope to keep you entertained for years to come. Thanks for your support. I love my job."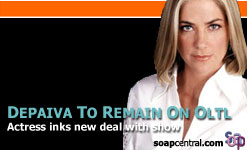 DePaiva has been a part of the One Life to Live cast since 1994. Prior to joining the One Life to Live cast, DePaiva appeared as Chelsea Reardon the CBS's Guiding Light from 1986 to 1991. Despite her lengthy daytime career, 2005 marked the first time that the actress earned a Daytime Emmy nomination.
In addition to her work on One Life to Live, DePaiva is also a talented singer. She recently released a CD titled No Regrets. The album features the single, "Sweet Angel of Mine."
DePaiva also recently wrapped production on the film, "UNDONE," directed by her husband and former One Life to Live co-star James DePaiva. "UNDONE" also features soap stars Heather Tom, Timothy D. Stickney and Forbes March.