Hot on the heels that One Life to Live heartthrob Michael Easton (John McBain) might be leaving Llanview comes a another rumor that another of the show's leading men might also be on the way out. Though the rumblings are not new, talk that Tuc Watkins (David Vickers) is exiting has grown louder in recent weeks.
Last year, Soap Central first reported that a Texas-based radio station had reported that Watkins wanted to leave One Life to Live. At the time, it was said that Watkins no longer wanted to commute from his home on the West Coast to New York, where One Life to Live is taped.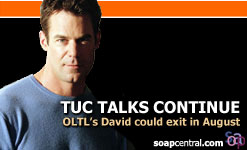 Watkins immediately issued a witty denial of the report, saying ""Any rumor about my departure from OLTL is simply and entirely that, a rumor. I've never quite understood how rumors like these get started. I do, however, understand that Demi Moore's 'Rumer' was started by Bruce Willis."
If Watkins had been counting on the fall pilot season to help him reach a decision about packing up and leaving One Life to Live, the actor may now have a tougher decision ahead of him. Watkins taped an adventure show pilot for FOX called 13 Graves, but the show was not picked up for the fall season.
According to show sources, Watkins and network executives are still in negotiations. ABC does not comment on contracts.
Watkins debuted on One Life to Live in 1994. He exited the show in 1996, but returned briefly in 2001 and 2002 before returning full-time in August 2003. His current contract is set to expire in August.
---
---