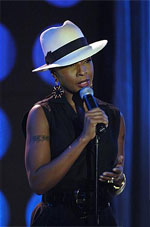 She might want "No More Drama" in her life, but The Queen of Hip Hop Soul, Mary J. Blige, will have a little bit of daytime drama in her life when she makes a special television appearance next month on ABC's One Life to Live. The Grammy-winning recording artist will perform two tracks from her double-platinum album, "The Breakthrough."
"The cast and I, being huge fans of Mary J. Blige's tremendous talent, are thrilled that she will be appearing on One Life to Live," executive producer Frank Valentini said in a statement. "Music has always been a pivotal part of One Life to Live, and Mary J. Blige helps us continue the tradition."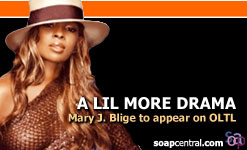 Blige will appear as herself and perform at Antonio Vega's club, Capricorn. In an odd coincidence, Blige herself is a Capricorn; her birthday is January 11th.
Released on December 20, 2005, "The Breakthrough" sold a whopping 727,163 units in its first week of release and debuted at #1 on two of Billboard's albums charts. The release also set the record for the best opening week sales by an R&B solo female in SoundScan history. Blige will take to the road this summer with "The Breakthrough Experience" tour, which opens on July 1st in Houston and ends September 8th in Oakland.
In 2001, the title track to Blige's "No More Drama" album sampled "Nadia's Theme," the theme to the CBS soap, The Young and the Restless.
Blige is not the first performer to appear on One Life to Live. Other acts to have guest-starred on the show include Lifehouse, Tito Puente Jr., Simply Red, Chris Botti and Erykah Badu.
Mary J. Blige's One Life to Live performance was taped on June 22nd and will air on Friday, July 28th.
In related news, Def Jam recording artist Rihanna will appear on All My Children on July 25th.
Browse or buy music from Mary J. Blige.