How do you feel about OLTL's decision to recast Marty?

If Haskell cannot return, OLTL should scrap its plans for Marty's return.
97%
I'm not thrilled with a recast, but I will give the new actress a chance.
1%
I don't care much for Marty, so I don't really see a need for her.
1%
As they say, the show must go on. OLTL has a story and needed to recast.
1%
I'm not really that familiar with Marty, so I can't offer an opinion.
0%
It doesn't really matter to me what the show decides to do with Marty.
0%
Other
0%
Poll Posted: October 2nd, 2006
One Life to Live's has found away around a roadblock that nearly put the kibosh on the show's plans to have Marty Saybrooke return to Llanview. The ABC soap was prepared to have
Susan Haskell
reprise her Emmy-winning role this fall, but now those plans have changed and the show has cast a replacement actress in the role.
According to show sources, Haskell and network execs had reached an agreement for Haskell to return to One Life to Live for an unspecified period of time. However, due to an undisclosed reason Haskell had to pull out at the last minute. The actress is expecting, however, and that is believed to have played into her inability to return to the show.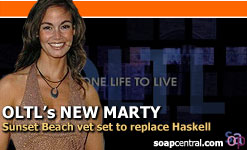 Haskell appeared on One Life to Live from 1992 to 1997, but made additional appearances in February 2004 and February 2005. In 1994, Haskell was awarded a Daytime Emmy in the Outstanding Supporting Actress category.
With the fan-favorite Haskell unavailable, One Life to Live's casting department put out a casting call to try to find big name talent to take over the role.
Daytime vet Christina Chambers (ex-Maria Torres-Evans, Sunset Beach) has been cast by One Life to Live as the new Marty. In addition to her work on the now-cancelled NBC soap, Chambers has made numerous guest starring appearances in primetime. In 2004, Chambers played former "Charlie's Angels" star Jaclyn Smith in an unauthorized made-for-television movie.
Last month, TVGuide.com reported that former General Hospital star - and an Emmy winner in her own right - Sarah Brown had been approached to possibly take over the role of Marty. has learned, was open to the idea but did not want to commit to the show on a long-term basis. --->
A planned storyline will have Marty cross paths with Todd and Blair in a most unexpected way. The storyline will also involve a character that has yet to be introduced to the canvas. Out of respect for our readers who don't like to read spoilers, this information will be posted in The Scoop section of our site.
Chambers makes her One Life to Live debut on November 10th.