Trevor St. John (Todd Manning) will exit One Life to Live this spring. At least that's the buzz on several Internet web sites and message boards. The actor, however, assures fans that nothing could be further from the truth.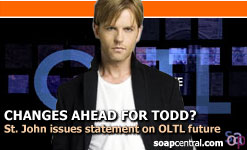 "A friend of mine let me know that some people out there are under the impression that I'm leaving the show in April," St. John writes in his official blog. "I wish I knew where these things come from, but I thought I should tell you that this one isn't even a little bit true."
In May 2003, St. John had the unenviable task of taking over the role of Todd Manning from Emmy winner Roger Howarth. Fans welcomed the actor when he was introduced as another character, Walker Laurence. Several months later, however, it was revealed that Walker was actually Todd Manning. Fans were initially unreceptive to a "new" Todd, but over time St. John was able to win them over and put his own spin on the role.
St. John's staying put also silences talk that Howarth will soon be returning to the show to reprise his award-winning role. Talk of Howarth's return heated up last week when Howarth's As the World Turns character was presumed dead in a car bombing.
---
---