Florencia Lozano (Téa Delgado) will return to One Life to Live by year's end. The actress, who played the tough-talking attorney Téa for three years, hasn't been seen on the ABC soap in more than six years. The length of her upcoming engagement, however, is not yet known.
Lozano joined One Life to Live in January 1997 and exited her full-time role on the show in March 2000. The actress returned briefly in 2002, during which Téa announced her love for Todd Manning. The declaration didn't quite go as Téa had anticipated, as she realized that Todd was still very much in love with Blair.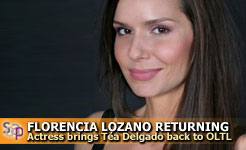 Since leaving One Life to Live in 2000, Lozano has gone on to make numerous guest appearances in primetime. Earlier this month, the actress apepared on ABC's Ugly Betty. Other recent gigs include Lipstick Jungle, Law & Order: Criminal Intent, and Law & Order: Special Victims Unit. Lozano also appeared in the pilot of The CW's teen soap, Gossip Girl, but she was replaced when the show was put into full production.
During her previous run with One Life to Live, Lozano was nominated three times for an ALMA Award.
Lozano's first airdate is December 5.