One Life to Live is preparing for the return of two familiar characters: Hank and Rachel Gannon.
Nathan Purdee
will reprise the role of
Hank Gannon
, while former Passions star, Daphnee Duplaix, assumes the role of Rachel.
Nathan Purdee returns to Llanview for the first time in nearly six years in April -- and it's no April Fool's Day prank. Beginning in 1992, Purdee enjoyed an eleven-year run as Llanview's District Attorney, Hank "The Cannon" Gannon.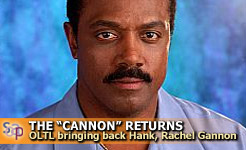 Purdee has kept a low profile since leaving One Life to Live. Last year, the actor made a guest-starring appearance on Law & Order, and also appeared in the tele-film, Living in Captivity. In the years prior to his joining One Life to Live, Purdee starred as Superfly in the motion picture, The Return of Superfly.
Fans of CBS's The Young and the Restless may also recognize Purdee. The actor appeared from 1985 to 1992 as Nathan Hastings. During his time on The Young and the Restless, Purdee's character went from mobster to a "reformed" private investigator. The character subsequently kidnapped his son, was involved in an HIV scare, and later killed when he was struck by a car in 1996.
Purdee returns on April 1 to help usher in his newly recast on-screen daughter.
Former Passions star, Daphnee Duplaix, cast as Rachel Gannon.