In a casting decision that may surprise viewers, Soap Central has learned that Scott Clifton (Schuyler Joplin) has been let go by One Life to Live. The actor's exit is dictated by storyline.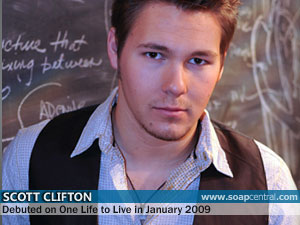 "Hey guys, just want to let you know the rumors are true: I killed JFK. Oh, wait, the other rumor? Yeah that's true too. OLTL let me go," Clifton posted to his Twitter page. "Had a blast working on the show, with a killer conclusion. I really hope you guys keep watching 'cause I did some work I'm really proud of."
Though unconfirmed by the show, a setside source tells Soap Central that Clifton's exit will be brought about by the conclusion of the show's "who's the daddy?" of Sierra Rose storyline.
"I loved working with Scott Clifton and he is a true gentleman," Frank Valentini, One Life to Live's executive producer said in a statement.
Clifton's addition to the One Life to Live cast in January 2009 caused some shuffling around of roles. Another actor had been cast as Schuyler, but Clifton's availability prompted the show to make some changes. Last month, the actor was pre-nominated for a Daytime Emmy for his work on the show.
Prior to joining the One Life to Live cast, Clifton appeared on General Hospital from April 2003 to July 2007, when the actor opted to exit the show. During his run with the show, Clifton earned three consecutive Outstanding Younger Actor nominations at the Daytime Emmys. Naturally, fans are wondering if the actor might rejoin his former castmates in Port Charles.
"So, a lot of questions about returning to GH as Dillon," Clifton noted. "I honestly think that's up to them, but I'd be open to it. They're like family. Otherwise, it's gonna be about going back to my roots: Move to L.A. and audition my ass off. That's where it's at, man. Life's a gamble. "
A final airdate has not yet been released, but, based on the show's tape schedule, it is expected to come sometime in late-April.