Emmy-winning scribe Jean Passanante will join the One Life to Live writing team when As the World Turns stops production later this year.
Passanante will take on the role of associate head writer, a role she's very familiar with. This will not be Passanante's first stint with One Life to Live. The scribe was an associate head writer with the show from 1993 to 1996, and then again from 1997 to 1998. Between her two associate head writing jobs, she was co-head writer.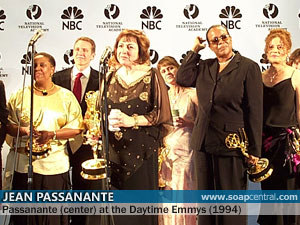 In addition to her work with the fictional residents of Llanview, Passanante has helped guide the action in several other soap towns. After leaving One Life to Live, Passanante served as co-head writer for NBC's Another World. Upon that soap's cancellation, Passanante was hired by ABC as co-head writer of All My Children. A couple of years later, in 2001, Passanante left her head writing job at All My Children and headed to As the World Turns. She's been with the CBS soap ever since.
As associate head writer, Passanante will help support the show's head writer, Ron Carlivati. A show spokesperson makes it very clear that Carlivati remains on as head writer.
Since 1994, Passanante has earned ten Daytime Emmy nominations. She's been a part of As the World Turns' Emmy-winning writing teams in 2002, 2004, and 2005. In 1994, she earned a win as part of One Life to Live's writing team helmed by Michael Malone and Josh Griffith.
---
---