PROGRAMMING NOTE:
Kristen Alderson appeared as a guest on Soap Central Live on Friday, May 14 at 600pm ET/300pm PT. Kristen talked about growing up on television and, of course, One Life to Live's "ab fab" musical production of Starr X'd Lovers.

• To listen now, visit: www.voiceamerica.com/voiceamerica/vepisode.aspx?aid=46326

This week, One Life to Live embarks on a journey into uncharted territory -- something never before seen on daytime television. The long-running ABC soap will air a three-day musical event known as Starr X'd Lovers.
It would be easy to dismiss the show's musical production as an attempt to jump on the
Glee
bandwagon -- but that's not the case. One Life to Live has been incorporating musical numbers into its storytelling for nearly a decade.
In 2002
, the show aired an episode dubbed "Babes Behind Bars." The episode helped power One Life to Live to a Daytime Emmy win for Outstanding Drama Series. In 2007, One Life to Live went from the jailhouse to the schoolhouse with
Prom Night: The Musical
.
This year's musical production was filmed over the course of three weeks. The show's carpenters worked overtime to build sets and the production team burned the midnight oil to make sure that everything looked just right. Executive producer Frank Valentini tells Soap Central that at least one member of the crew stayed overnight in the studio to make sure that deadlines were met.
"Everybody put their hearts and souls into this," Valentini beamed proudly.
To say that Starr X'd Lovers is ambitious might be a bit of an understatement. In addition to eight original songs, the cast will also offer cover versions of songs such as "Our Lips Are Sealed" by the Go-Go's (set in Roxy's salon), "Battlefield" by Jordin Sparks (featuring a sexy and rockin' performance by Tika Sumpter), and the Black Eyed Peas' "I've Got A Feeling."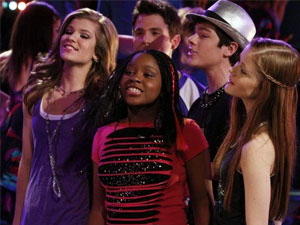 To help get viewers amped up for the big event, Kristen Alderson (Starr Manning), Eddie Alderson (Matthew Buchanan), Kelley Missal (Danielle Rayburn), Shenell Edmonds (Destiny Evans), Lenny Platt (Nate Salinger), J.J. Singleton (Darren), and a team of more than a dozen dancers will appear on The View on Friday May 14. The cast will perform the song "Starr X'd Lovers."
The entire playlist of the eight original songs performed during Starr X'd Lovers is available for download on iTunes. As an added bonus, those purchasing the entire "album" will get three different versions of One Life to Live's theme song as performed by cast members.
Starr X'd Lovers begins on Friday, May 14 and will continue on Monday, May 17 and Tuesday, May 18.
Photo: ABC