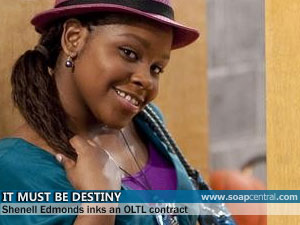 Though the show won't confirm the news, Soap Central has learned that Shenell Edmonds (Destiny Evans) is now on-contract with One Life to Live.
Edmonds' Destiny made her debut in Llanview in February 2009. The young actress remained with the show in a recurring capacity through sometime in mid-May 2010. One Life to Live marks Edmonds' first professional acting gig.
ABC policy prohibits discussing a performer's contract status. The length of Edmonds' contract is unknown.