One Life to Live star
Tika Sumpter
(
Layla Williamson
) definitely won't be able to blame a hacker for this announcement. The actress took to her Facebook page with a personal video to inform fans that, as of the end of month, she'll no longer be on contract with One Life to Live. In making her video announcement, Sumpter made sure that the reasons for her decision were clear and that her words would not be misconstrued.
"As of July 30th, I will no longer be on contract. I will be on recurring [status]. This was my choice," Sumpter announced. "I decided this because it's just time to move on for me. It's time for me to try other things. And... it's just
time
. You know, you come at a crossroads in your life and you know that it's time to go on."
Sumpter let fans know that the decision to effectively leave One Life to Live was not an easy one for her, but she urged them not to be angered by her decision to leave.
"At first you might be a little upset, and I totally understand that," Sumpter said, becoming emotional as she reflected on how fans have supported her. "You also have to understand where I'm coming from and this is a hard decision. But it's a decision I've decided to make. I'm so excited for the future -- I'm super excited, guys. I'm so excited. I'm ready."
Earlier this year, Sumpter denied published reports that she'd been fired or downgraded to recurring status. The actress explained that her lack of airtime had been due to her work on other projects outside of daytime.
"One Life definitely prepared me to do everything that I'm doing," Sumpter added. "I'm grateful to [OLTL executive producer] Frank Valentini and [Head of ABC Daytime] Brian Frons for allowing Layla to just be Layla. I know people wanted more story for her, but it just doesn't always happen that way. And I'm okay with that. Layla's okay with that."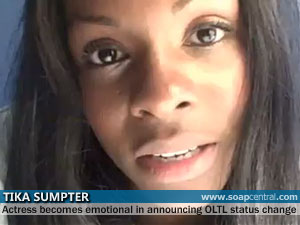 For her part, Sumpter indicated that she'd always be willing to return to Llanview.
"Whenever One Life to Live needs me to come and stop by and do whatever they need me to do, I will be there," the actress said with a smile.
Sumpter's first film project, the direct-to-video Stomp The Yard 2: Homecoming, a sequel to the 2007 box office hit, will be released on video on September 21. Her other project, Whisper Me A Lullaby, is in post-production, but a release date has not yet been announced.
Tika Sumpter joined One Life to Live in July 2005. In 2008, Sumpter's work on One Life to Live earned her an NAACP Image Award nomination.
Sumpter's last scheduled One Life to Live appearance will air on September 14.
Photo: Tika Sumpter