Soap Central previously reported that Passions execs were in the process of renegotiating contract terms with Taylor Anne Mountz (Kay Bennett). For several weeks there were no new developments, but that has now changed.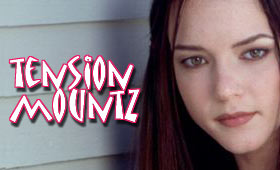 Mountz will begin college this fall and was said to have asked for a work schedule that would accommodate her academic career. It took weeks of speculation, but a Passions spokesperson has confirmed that Mountz has been released from her contract. Mountz originated the role of Kay Bennett on the show's debut back in July 1999.
"Temporarily replacing" Mountz, according to reps for Passions, will be Gina Marie May. The casting department will busily be working to find a permanent replacement for Mountz. May will first air on August 8th.
Mountz is not the first teen soap star to want a break from the rigorous soap schedule in order to attend school. General Hospital's Kimberly McCullough (Robin Scorpio) and All My Children's Gina Gallagher (Bianca) have all previously asked for breaks so that they could focus on their schooling. McCullough's role was never recast. Gallagher's, however, has been recast twice since she left the show.