Passions fans are in an uproar over the death of Sheridan Crane. The character's death came as the climax to weeks of the highly publicized "One of these characters will die" advertising campaign.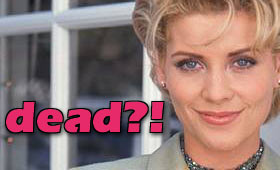 There's a bit of a paradox to the death of the character. For months, fans have been complaining that the show's storylines have been going nowhere. A spokesperson for the show had promised that things would come to a head during the November Sweeps period --- and apparently they have.
Passions executive producer Lisa Hesser insists that this is just the beginning of a more complication storyline. "We don't want to upset the fans," says Hesser. Hesser assures fans that the eventual outcome will be very much to their liking.
Since Passions has a tendency to interlace fantasy with its reality-based storylines, fans have already started speculating that Sheridan isn't really dead. Not so, according to a insiders with the show: Sheridan is dead --- at least for now.
The other rumor making the rounds is that Sheridan will remain dead for at least a little while before she is somehow resurrected. After all, Harmony does have Hecuba and Tabitha, its two resident witches.
Though Hesser and creator/head writer James E Reilly remain tightlipped about the possibility that Sheridan will once again be back among the living, both assure fans that major storylines twists will develop as a result of Sheridan's demise.