Andrea Evans (Rebecca Hotchkiss) will again step outside her role on NBC's Passions, this time starring this spring in two episodes of the nationally syndicated radio series, The Twilight Zone.

Evan's first trip to the Twilight Zone will take place on April 14th in an episode called "Twenty Two." Evans will portray Liz Powell, a character that is haunted by a recurring nightmare involving the number 22. A doctor assures Powell that her dream is nothing more than a dream - but she learns that that is not quite the case.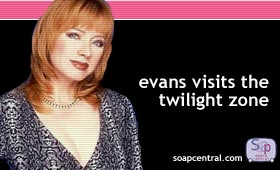 Later, on June 2nd, Evans returns to the microphone to star as Agnes Grepp in "Cavender is Coming." Grepp is rescued from poverty by a guardian angel, but the grass on the other side of the fence isn't greener. This story differs from the creepy nature of most Twilight Zone episodes in that it is light-hearted.

As previously mentioned, this is not Evans' first trip to work outside of Passions. Last year, Evans, who is not under contract with the NBC soap, appeared in a Chicago engagement of the acclaimed The Vagina Monologues. The time in Chicago allowed Evans to record her Twilight Zone episodes.

Additionally, Evans also writes a bi-monthly cooking column in Healthy Cooking magazine.

Other actors slated for the radio series include Jason Alexander, Ed Begley, Jr., Kim Fields, Steve Guttenberg, Kate Jackson, Frankie Muniz, Lou Diamond Phillips, John Ratzenberger, Jane Seymour and Blair Underwood.

The Twilight Zone series is based on Rod Serling's TV series. Science fiction writer Dennis Etchison has adapted Mr. Serling's television scripts into modern day 60 minute radio formats.