Actress and singer Alisa Reyes has been signed to a contract role on NBC's Passions.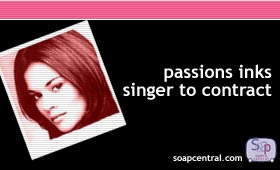 Reyes will portray Sydney Valentine, or "Syd" as she prefers to be called. Viewers who believe that they've seen Reyes on Passions before are not seeing things. Reyes previously portrayed a character by the name of Kelly in January and February 2002.

Passions Creator and Head Writer James E. Reilly previews, "Sydney, or Syd, as she prefers to be called, is a young, beautiful, talented and career-driven singer who wants to be on top of the Billboard charts and will do whatever is necessary to get there. Hooking up with Chad Harris, the newest up-and-coming music producer in Los Angeles is a great career move...the fact that she finds him hot is just the icing on the cake!"

Reyes lives in Hollywood with her mom, Brenda, and her rabbit KiKi. She is working on a new album and is a spokesperson for the American Cancer Society. Her previous acting experience includes stints on "Boston Public," "Varsity Blues" and the Nickelodeon series "All That."

Reyes begins taping on June 5th and will make her first on-screen appearance on July 22nd.