Grammy winning R&B recording artist Mya will appear as herself on Passions in July.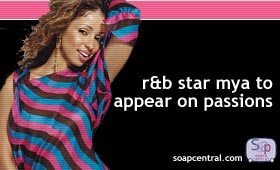 Mya's appearance comes in conjunction with the start of Passions summer storyline, "Hot L.A. Passions." The storyarc, a story that concludes over the course of thirteen weeks, centers around six of the show's core characters - Chad Harris, Whitney Russell, Nicholas Foxworth Crane, Theresa Lopez-Fitzgerald, Ethan Winthrop and Gwen Winthrop - visit to Los Angeles.

During her appearance on Passions, Mya will appear at a beach night club where Chad and Whitney have gone for a romantic evening. Mya will perform her new single, "My Love Is Like... Wo," from her forthcoming Interscope album, "Moodring."

Mya, who studied tap dance under the tutelage of internationally renowned dancer Savion Glover, is no stranger to acting. Though she may be primarily known to fans as a singer, Mya appeared as Mona in the Oscar-winning film "Chicago." She has also appeared in the miniseries, "The Blue" and in the film "In Too Deep." Mya teamed up with fellow chanteuses Christina Aguilera, Pink and Lil Kim on the chart-topping Grammy winning song "Lady Marmalade" from the film "Moulin Rouge."

Look for Mya's must-see appearance on July 24th.