A Passions spokesperson has confirmed that Chrystee Pharris-Larkins (Simone Russell) will exit the show.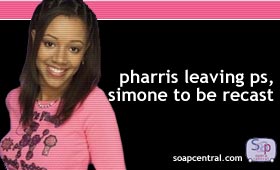 According to a show spokesperson, the actress has opted not to renew her contract and will pursue other opportunities. The role will be recast.
Pharris-Larkins joined the cast of Passions in April 2001. She is not the first actress to play the part of Simone. Lena Cardwell originated the role when the show debuted on July 5, 1999. She exited the show in April 2001.
Prior to joining Passions, Pharris-Larkins appeared on primetime programs including Moesha, 7th Heaven and Sister, Sister.
A final airdate for Pharris-Larkins has not yet been determined. With NBC already "aggressively" searching for a new actress to play Simone, it is unclear if the network will allow Pharris-Larkins to serve out the remainder of her contract or if the show will release her once a new Simone is found.