How do you feel about Passions bringing Paloma to the screen?

It's about time! I was beginning to think we'd never see her
58%
I'm intrigued, so I hope the mystery isn't ruined for me.
14%
I haven't made up my mind yet. I guess we'll have to see.
10%
To be honest. I would prefer that she remain unseen.
10%
I don't see a need for Paloma to show up right now.
6%
Other
2%
Poll Posted: March 22nd, 2004
Telemundo star
Silvana Arias
has been cast by NBC's Passions to play the here-to-unseen youngest Lopez-Fitzgerald sibling, Paloma.
Paloma is a "fiery, stormy and emotional" character, according to Passions creator, head writer and consulting producer James E. Reilly. "We're all familiar with the antics of her older sister, spitfire Theresa, but just you wait - Paloma will give even Theresa a run for her money. Harmony will never be the same once Paloma hits town."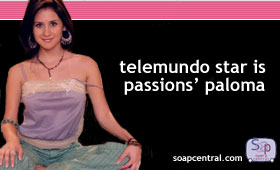 The addition of Arias to the cast also prepares Passions for another on-location shoot. The show will trek to Mexico later this year to film some scenes.
According to Sheraton Kalouria, Senior Vice President Daytime, NBC, "The casting of Silvana Arias is a great example of the cooperation and synergy that is at work between NBC and our Spanish language network, Telemundo. Their extraordinary pool of telenovela stars was a natural first place to look when we wanted to add to Passions' founding Latino family." NBC owns the Telemundo network.
Born and raised in Lima, Peru, Arias followed in the footsteps of her father, classic theater actor Nelson Arias when she was a teenager by performing in Peru's popular telenovela "Maria Emilia" as Susanita Pena. Arias' family later relocated to Miami, Florida when Arias was offered the role of Jimena Arismendi in the telenovela "Gata Salvaje." The big break for the actress, however, came when she landed the role of Coni on "Amor Descarado" for Telemundo. Arias will be moving from Miami to Los Angeles for her role on Passions.
The character of Paloma will be fully bilingual and will play out scenes in both English and Spanish. In addition to English and Spanish, Arias is also fluent in Portguese.
Arias' first tape date on "Passions" is Monday, March 29 and her first airdate is tentatively scheduled for Monday, May 17.
Galen Gering (Luis) re-signs his contract with Passions.