Passions' Lindsay Korman (Theresa Lopez-Fitzgerald) and co-star Justin Hartley (Nicholas Foxworth "Fox" Crane) were married on May 1, 2004. Effective immediately, Korman will now use her husband's name professionally.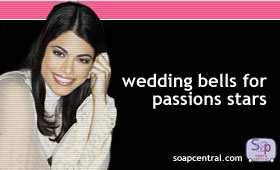 Korman and Hartley announced their engagement in November 2003.
The newlyweds are also expecting the arrival of their first child in July. According to a Passions spokesperson, Lindsay's pregnancy will not be addressed on-air. Since Passions scripts its storylines months in advance, there was not an opportunity for Theresa to be pregnant at this time.
However, being that Theresa is a front burner character, there is wide speculation that Passions may temporarily recast the role of Theresa during Hartley's maternity leave.