Passions, one of the most racially diverse soap operas currently on the air, will add another African American contract role later this year.

Actress Daphnee Duplaix Samuel will appear in the contract role of Valerie Davis, a "smart, beautiful executive assistant at Crane Industries." Passions creator and head writer James E. Reilly previews that Valerie will have "more than stock options on her mind when she meets her new boss, Chad Harris."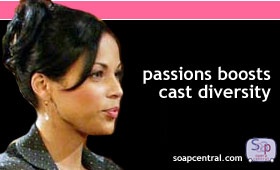 This will be Duplaix Samuel's first foray into daytime television, but she has numerous television and film credits in her acting portfolio. Among the film credits Duplaix Samuel can boast are The Fighting Temptations," "Catch Me If You Can" and "View From the Top." She has recently aired in guest spots on television's "My Wife and Kids," "The Steve Harvey Show," The Parkers," "City Guys," "Angel" and "Just Shoot Me."

In addition to her acting credentials, Duplaix Samuel is also the creative director for the magazine Unleashed. The actress resides in Los Angeles with her husband and two children, Jaylen and Sebastian.

Duplaix Samuel has already taped her first Passions scenes. Those scenes, taped October 21st, are expected to air on December 16th.