With Hartley exiting, Passions will recast Fox. What is your reaction?

I'm crushed Hartley is leaving. NBC needs to find a way to get him to stay.
58%
I love Hartley as Fox and don't think that the role should be recast.
12%
Fox is too important to disappear. I think recasting the role is necessary.
12%
I don't really see a need for Fox. He should be written out with Hartley.
11%
It doesn't make a difference to me what Passions does with Fox.
7%
Other
1%
Poll Posted: October 17, 2005
In another blow to the Passions hunk department, Soap Central has learned that
Justin Hartley
(
Fox Crane
) will be exiting the show when his contract expires early next year.
"I really need to get this out. I'm leaving the show," Hartley told fans gathered at the show's annual fan club weekend. "All I want to do is thank you for all your support. I met my wife (
Lindsay Hartley
,
Theresa Lopez-Fitzgerald
) and had a baby on the show."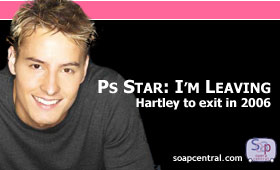 The announcement was said to have taken many fans by surprise. The actor made the decision to exit of his on accord.; Hartley opted not to renew his contract with the show. That doesn't mean that Hartley has been unhappy during his three years with the NBC soap.
"The producers have been great. I love the cast... Oh, my God! I got to work with
Juliet Mills
(
Tabitha Lenox
)!
Ben Masters
(
Julian Crane
) is my absolute mentor,
Eric
(
Martsolf
,
Ethan Crane
) made me laugh every single day," Hartley added. "I'm going to miss [the fans], but I'll be around. I'd like to encourage continued support of the show."
Hartley will continue to air on Passions through February 2006. At that time, the role will be recast.
"The character of Fox is obviously such an integral one to the tapestry of the show," said Sheraton Kalouria, senior vice president, daytime programs for NBC Entertainment. "The character is going to be around. Hopefully, we'll be as lucky as we were in finding Justin Hartley."
There is currently no word on when NBC will begin auditioning actors for the role of Fox.