The soap world is abuzz with the news that Passions has been cancelled - again. Though no official word has come from the show's spokesperson, several of the show's performers have informed their fans that the plug has been pulled on the show for the second time in 12 months. However, Passions fans will be able to continue watching the show for many months to come.
In a message posted on Soap Central's message boards, a claim was made that Passions star Tracey Ross (Eve Russell) directed a webmaster of a fan site to post a message stating that the cast and crew of Passions had been given notice that the show would be ending.
Later, actress Liza Huber (Gwen Hotchkiss) posted a message on her official web site with the same unfortunate news.
"Yes, it is true that Passions will finish taping at the end of March 2008," Huber said. "We will start airing three days a week on DirecTV which should last through summer of 2008. It has been a wonderful ride (although Gwen has completely lost her mind!) and I want to thank all of you for your amazing support for Passions through the years!"
"This rumor is indeed true at this point. Passions is scheduled to stop shooting March 2008," added Eric Martsolf (Ethan Winthrop).
While Passions is currently DirecTV's highest-rated original program, insiders say that the satellite television provider failed to meet the projected total of new subscribers expected to sign up for DirecTV in order to see Passions after it left broadcast television. Passions moved to DirecTV in September as part of a $40 million deal designed to bring more original programming to the service.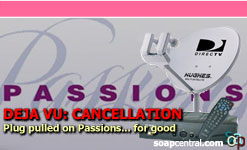 NBC canceled Passions in January 2007 to make way for a fourth hour of its morning news show, Today, but left open the possibility that the supernatural soap could find new life on another network. Before the show ultimately landed on DirecTV, it is widely believed that NBC shopped the show to the Disney-owned all-soaps cable channel, SOAPnet, along with several other cable networks. Passions' low-ratings and high production costs were the reasons cited by NBC for ditching the eight-year-old soap. Ironically, those very reasons are believed to be the rationale for other networks not wanting to pick up the rights to broadcast Passions.
Reruns of Passions aired briefly on The Sci-Fi Channel in 2006, but were quickly stopped due to low ratings.
The cast and crew of Passions will tape its final episodes of the year on December 19th before taking a Christmas-New Year's break. The show will resume taping in 2008 with the final episode being taped on or around March 24, 2008.
New episodes of Passions will air through the summer, which would fulfill DirecTV's one-year commitment to the show.
As the news of Passions rumored cancellation made their rounds on the Internet, some fans threatened legal action against DirecTV.
"I think they knew that they were going to cancel Passions all along," said one poster on Soap Central's Passions forum. "They just wanted to increase their subscriber base."
However, a DirecTV spokesperson refutes that Passions future is so cut and dry. Passions is not going off the air, the spokesperson insists. Well, at least not right now.
"Passions just received [an order for] an additional 52-episode pick up," states Caley Cronin, the manager of public relations for DirecTV. "We'll see what happens after that."
It appears unlikely that Passions will move to another network, but there is scant hope that the show could end up on a cable channel such as Oxygen or as an Internet-only soap.
Until then, expect Passions to continue airing until at least August 2008.