Newcomer is Passions' New Simone
By
Dan J Kroll

Posted Sunday, May 02, 2004 9:22:49 PM
Soap opera newcomer Cathy Jeneén Doe assumes the role of Simone Russell later this summer. As previously announced, current Simone, Chrystee Pharris-Larkins, has opted to leave the show.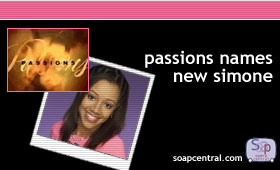 While Doe has never appeared on daytime television before, the actress does have both serial television and motion picture experience. Doe appeared as Lori in several episodes of the series "Go Fish" in 2001. The following year she appeared on the NBC series Ed. On the silver screen, Doe was seen in Chance and Five Years, both of which were released in 2002.

In December 2003, a show spokesperson revealed to Soap Opera Central that Pharris-Larkins had opted not to renew her contract and would instead pursue other ventures. Pharris-Larkins joined the cast of Passions in April 2001. She assumed the role of Simone from original cast member Lena Cardwell who debuted on July 5, 1999 and exited the show in April 2001.

Doe's first airdate is scheduled for July 23rd, 2004.




News Archive
: Another Simone announces plans to exit Passions.
---