Christopher Douglas (Antonio Lopez-Fitzgerald) has been let go from Passions. He becomes the latest in a line of stars to exit the show.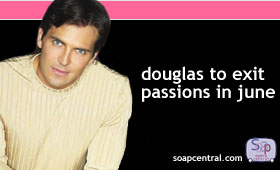 "Chris' departure is storyline-driven and there will be no recast," a Passions spokesperson said in a statement. "His departure is part of a dramatic story that will reunite Luis and Sheridan early this summer."
Douglas joined Passions in October 2001. Prior to landing in Harmony, Douglas enjoyed a three-year run as Dylan Moody on ABC's One Life to Live as well as a brief stint on the top-rated CBS soap The Young and the Restless.
According to setside chatter, Douglas' contract was up for renewal at the end of the summer and there was talk that the actor might not re-sign with the show.
"It is a very amicable parting, and we wish Chris every success in his future endeavors," adds the show spokesperson.
Douglas will last air on June 24.