Will you tune in to Passions Vendetta's web site for sneak peeks and clues?


Yes. I am a sucker for scoops and spoilers, so of course I'll be there.
70%
I might check it out every now and again, but that's about it.
11%
No. I don't like surprises spoiled for me... so I will be staying away.
9%
I don't know. I'm thinking no, but my curiosity might get the better of me.
5%
Other
4%
I think that I might log in just for a chance to win some of the prizes.
1%
Poll Posted: March 13, 2006
NBC found so much success with its online teaser "Passions Red," that the network has decided to go to the well once again. Beginning March 14th, NBC will launch "Passions Vendetta." Like the previous online campaign, "Passions Vendetta" will introduce a new character that will have a profound impact on the lives of other characters on the canvas.
On-screen, a mysterious monk will impact the lives of 16 Harmony residents as they travel to Rome. On the special web-site set up for "Passions Vendetta," fans will be able to log in twice-weekly for 12 weeks to find clues to the monk's identity. As was the case with "Passions Red," the identity of the mystery person will be revealed to online fans before it is revealed on the show itself.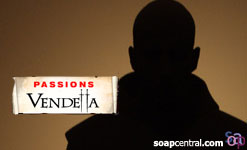 During the campaign, five hidden symbols will be inserted each week into various areas of the "Passions Vendetta" site. Users can click on the symbols and add them to their individual vault to unlock weekly treasures, such as bonus pictures, interviews, IM icons, desktop wallpaper and much more. Users who collect all the symbols will be entered into a drawing where winners will be chosen at random to receive a year's supply of beauty supplies.
"The overwhelming success of PassionsRed.com proved that NBC Daytime viewers are savvy online users, looking to dive into storylines and get excited about what is happening on air," said Annamarie Kostura, Vice President, NBC Daytime Programs. "'Passions Vendetta' will give fans the chance to be tied into a larger online community and get 110 percent involved in the storyline."
"'Passions Vendetta' is the next step in creating a true interactive entertainment experience which combines the best storytelling and production skills from television with web technology that allow viewers to actually interact with the video itself," said Stephen Andrade, Vice President, NBC Interactive. "This gives users the ability to play along and be more involved in the story."
Fans can start logging in to the "Passions Vendetta" web site at www.passionsvendetta.com. This site is operated by NBC and is not affiliated with Soap Central.