Ending speculation about the soap's future, NBC has announced that Passions has been renewed for another season. The show will now air through at least July of 2007.
"Passions continues to attract a loyal fan base as well as a youthful audience that appreciates its wildly inventive storylines," said NBC Entertainment president Kevin Reilly in a statement. "We are glad to continue our creative relationship with the show as a reflection of our commitment to daytime programming."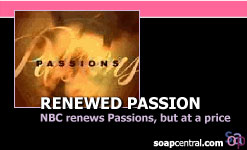 Fans have been on a rollercoaster ride for some time as the show's ratings have dipped to heart-stopping lows only to rebound to "normal" levels a few weeks later. In the most recent ratings made available to the media, Passions ranked last of the nine soaps with a 1.5 rating (1.65 million viewers).
In December, Soap Central reported on the growing chatter that Passions might not make it to another season. Fans, too, seemed to question the future of daytime's newest soap. More than one-half of those taking part in a Soap Central poll felt that Passions would not be renewed by NBC.
But in the days of ever-shrinking budgets, renewal often comes at a cost. TVGuide.com reports that Passions had to make drastic cuts in its expenditures to the tune of $5 million. A setside source tells Soap Central that the show has had to make cuts, but puts the figure closer to $4 million over the course of the one-year deal. The easiest way for the show to free up some cash was to make roster cuts. Initially, none of the show's contract players will fall victim to the budget cuts, but at least a dozen behind-the-scenes crew members will be let go. [For more on Passions' cost-cutting measures, click here.]
As for the show's top execs, both head writer James E. Reilly and executive producer Lisa de Cazotte will continue on.
"Jim and Lisa are a winning combination," added NBC Daytime president Annamarie Kostura. "Their enthusiasm and love of the genre has created fun, fresh storytelling and we're thrilled to continue our relationship with them for what promises to be another imaginative season."
Budget slashing isn't anything new for soaps of late. Guiding Light -- which ranks just one place above Passions in the ratings -- underwent major budget cuts last year, resulting in the dismissals of several veteran contract players. Guiding Light also moved to a smaller studio and changed its work schedule to help cut costs.
Meanwhile, there is no word on whether or not the Sci-Fi network will resume airing early episodes of Passions. The network started airing Passions from Day One earlier this year, but mysteriously stopped airing those episodes last month.
Likewise, there has been no official word about the status of Days of our Lives, which is also in the midst of renewal talks.
Passions debuted on July 5, 1999 and will now enter its eighth season in July.