It's been 109 days since the last new episode of The Young and the Restless aired. One hundred nine days. This is probably the longest period of time that soap fans have ever had to wait for new content (not counting the time between All My Children and One Life to Live's cancellation on ABC and subsequent short-lived online reboot).
The four-month break has been sort of a mixed blessing. One of the biggest complaints I've gotten over the past 25 years of running Soap Central is that there is really no place to see classic episodes of soap operas. There was a home for at least occasional airings of old soap opera episodes when the cable channel SOAPnet existed.
Some fans have demanded that soaps release DVDs of every episode that has ever aired. Um... so let's break out the soap abacus and do a little computation. The complete Seinfeld DVD collection features all 180 episodes -- on 32 DVDs. There are more than 180 episodes of Y&R in any given calendar year and Y&R is an hourlong program, where Seinfeld was just 30 minutes. So... 180 episodes of Y&R would need 64 DVDs. Multiply that by 46 seasons (I'm not counting 2020, since the year is not over) and you'd have... a lot of DVDs. I asked Siri how many it would be, and she responded, "Who the hell wants that many DVDs lying around the house?" Google was no better. It just sounded an alarm and chirped, "Hoarder alert! Hoarder alert!"
In case you really are wondering, it would be 2,944 DVDs. If each DVD weighs about four ounces, the Complete Y&R Collection of DVDs would tip the scales at 736 pounds. Yes, pounds. I hope each collection comes with a free forklift. And I didn't even dare to try to figure out what the cost would be.
Now, in a digital world, certainly old episodes could be placed on a streaming service like CBS All Access or Hulu.
By now, you are wondering where on earth I am going with this column. Admittedly, I've wandered a bit off the path that I had planned to take. The good thing of the almost-four-month break is that fans finally got to see some of the classic episodes that they've wanted to see. On the flip side of that, fans were not getting new episodes, and there is a fear that some of those fans might never come back to watch Y&R when new episodes resume airing this week.
That isn't the only good news/bad news scenario here. In fact, I'm not sure that anyone even thought about this when the classic episodes started airing: the old episodes have made some fans long for the days gone by, the golden age of soaps.
There have been a lot of comments on social media about glamorous sets, location shoots, weddings with more than five people in attendance, and storytelling that viewers really connected to.
This is all terrible, terrible news, right? Not necessarily.
Assuming that the show's writing team continued to work diligently during the coronavirus-forced shutdown, the classic episodes and the response they received from viewers could serve as an incredible tool to help forge forward with Y&R story.
Writing a soap is incredibly difficult because there is no summer hiatus. The only hiatus soaps get is called "the weekend." Writers have to bang out five episodes each week. That's what makes it more challenging than people might think. Writers don't always have the luxury of time to make sure that every episode is as close to perfect as possible. Having four months to contemplate story and evaluate what is and is not working is like finding a way to freeze time -- or learning that your favorite candy bar has no calories.
I found a commonality in the episodes that I really enjoyed: almost all of those classic episodes were typically created while William J. Bell was at the helm as executive producer and/or head writer. Of course, there is no way to get around the fact that Mr. Bell is no longer with us. I think that when something is your proverbial baby, you tend to care for it more than others do.
Over the remainder of this column, I am going to share some of my favorite episodes from the summer of throwbacks and share why I liked those particular episodes. As an added bonus, I will also offer some thoughts on how those old episodes could be applied to writing Y&R today.
I've already mentioned that Bill Bell's presence is missed. The same also applies to some of the on-screen talent. I absolutely loved the Katherine Chancellor week of episodes that kicked off all of the throwbacks. And it seemed Kristoff St. John appeared in more classic episodes than he did in the last few years of his life.
The main takeaway from this, at least to me, is that viewers need to care about the characters that are driving the show. It isn't a knock against new talent. After all, every beloved character was once a newcomer. Don't allow favorites that have been a part of Y&R for decades to languish as tertiary characters or background seat-fillers. If viewers don't care about the focal point of a storyline, how can they possibly care about the storyline?
That leads me to another episode that was shown that I really wanted to see: Cassie's death. I know it sounds macabre to want to see an episode with a death, especially when it seems there is death everywhere of late. Let me explain why this was a must-see episode.
Back when the Cassie episode originally aired in 2005, there were about a dozen soaps on television. It made it impossible for me to watch every episode of every soap every single day. On the day that Cassie's death aired, I had to take care of a neighbor's dog while they were away on vacation. They kept the television on for the dog, and, lo and behold, the channel du jour was CBS.
The episode was skillfully crafted. All of the necessary players were there. There was no budget-mandated awkward explanation that Grandpa Victor was off on a business trip and couldn't be there. It also wasn't the only story featured in the episode. I suppose it emphasized that in our triumphs and in our losses, life goes on all around us. I think that was perhaps a subliminal message in the episode. The moment when the hospital monitor flatlined and Nadia's Theme, the Y&R theme song, played was my breaking point. Tears streamed down my face in 2005, and they flowed just as freely 15 years later.
Perhaps more importantly is that Cassie's death wasn't a desperate ploy for ratings that was forgotten by the following week. Cassie's death drove story moving forward, and, in a way, it is still a part of story now. Cassie is still mentioned, and an "adult" Cassie even visited Sharon as Sharon struggled with her cancer diagnosis. In the real world, we remember those that we've lost. We talk about people who have moved out of town. We reflect on the laughs and tell stories about our past antics with friends and family.
The Young and the Restless' decision to kill a core character, a child, was shocking. It still is. And they did it again when Delia was killed. A story about a bad guy being crushed to death in a trash compactor? Would the show (or any soap) make that same decision in 2020?
All My Children and General Hospital both had storylines where main characters died of complications from HIV/AIDS. One Life to Live saw a core character die from lupus. Advancements have been made over years to help make once deadly diseases become manageable. The dangers with doing a storyline involving a real-world disease -- like cancer -- can be tricky. There will always be viewers who, sadly, have experienced that firsthand. If the commitment to telling the story isn't 100%, it shows.
Sharon was diagnosed with cancer. From every interview or article that has been written about the storyline, it seems quite clear that Sharon will kick cancer's butt. And that's great. But 42,000 women in the United States will not survive their battle with breast cancer this year. Knowing a character's fate ahead of time takes the emotional investment out of the story. I don't want Sharon -- or any of the 42,000 women -- to die from cancer. If life were a storyline, I'd get rid of cancer completely. But since life is real, that luxury doesn't exist. My only request would be to honor those who have faced cancer in Sharon's story. Quickie, magical cures might have worked in the 1980s, but they don't today.
In an era where a tenth of a ratings point can mean the difference between a show being renewed or canceled, it seems soaps have shied away from making decisions that could rock the boat. A romance between Traci and a younger man was scrapped because of a group of vocal and supposedly outraged "fans" -- even if no one wants to admit it publicly.
Mary Williams seems to best represent that in the flashback episodes that aired. There was the bachelorette episode where Mary cringed at the lingerie being shown and then, more recently, the naked centerfold episode. In the real world and on social media, it seems that having an opposing point of view is no longer a good thing. I am sure I'll find that out when feedback from this column starts trickling in. While some of the situations that evolved from Mary's belief system were comical -- like Lauren strutting down the stairs in sexy lingerie -- I never found myself laughing at Mary. I don't expect everyone to share my views or opinions, but I also don't expect everyone on a TV show to all have the same opinion. I don't need Jack and Victor screaming at each other over the political candidate that they support. Actually, let me edit that. I do not want real-world politics to ever creep into Y&R. There should not be any Biden, Trump, or Kanye signs on the front lawn of the Abbott manse or anywhere else.
One of the things that I noticed most from the older episodes was that there seemed to be a more diverse canvas of characters. There were more haves and have nots. There is something aspirational about watching someone who came from nothing make it big. By the same token, seeing someone like yourself having the same struggles can be oddly comforting. With stay-at-home orders, social distancing, and our increasingly online world, we've lost a lot of our in-person social interactions. Seeing someone like ourselves on-screen is a big deal.
There's not that same sort of audience involvement when a trust fund baby tries to open a restaurant or hotel. If they fail, they're still a multi-millionaire. There needs to be risk and consequence. Think of the nail-biting you might have done waiting for Regis to tell someone if their final answer made them a millionaire or sent their prize winnings crashing down to a lower amount. It wasn't your money, but you were still invested in what happened.
I'm struggling to think of anything pre-shutdown that really made me feel that sort of angst.
Devon losing his money did; Devon partnering in a health clinic didn't because it felt too Afterschool Special to me. The emotional connection between the characters and the story hasn't latched onto my heartstrings. If we had an existing character that we knew and cared about who was struggling with lack of medical care or food insecurity, it would be different. Bringing in a new character and talking about a character that is off-screen doesn't accomplish that. I'd even be fine with Y&R bringing back a character from the past as a way to establish this storyline. Perhaps this off-screen character we've never heard of turns out to be Drucilla. Based on tweets during the throwback episodes, a lot of viewers want Victoria Rowell back on Y&R.
Tessa and Mariah's relationship did make me feel something because it was unexpected. The stage was seemingly set for Tessa to be unfaithful while on tour -- but it was Mariah who strayed. It was Mariah who suffered the consequences. Relationships are not easy, but you already know this. While I want my favorite couples to be happy, I also know that 24/7 happiness isn't real. It would be nice to see couples struggle with some normal stuff on occasion. Not every marriage or relationship needs to be threatened by a lover coming back from the dead.
I've already nixed Victor and Jack fighting over presidential candidates, but that doesn't mean that I don't want these two characters to continue to face off. Some of the most memorable Y&R moments of the past few years involved Jack and Victor actually being civil to one another. I am not ready for the duo to go Thelma and Louiseing together, but I do think that there is potential story there to explore. What if both men suddenly have a realization about how much time and energy was wasted during their 30 years of battling. What if a 2020 tech world version of one of them comes to town with the intent of taking over both Jabot and Newman Enterprises. Maybe the pair is forced to secretly work together, while publicly remaining at odds. Jack and Victor are two characters that are essential -- vital -- to The Young and the Restless. It is time to take their relationship to the next level. No, no, no. Not like that.
New episodes of Y&R finally start airing again this week. The CBS soap has been tops in the ratings since the invention of the wheel, give or take a few years. The episodes that have aired over the past 15 weeks have demonstrated why the show has been at the top of the ratings chart for so long. Speaking of the invention of the wheel, I do believe the "if it ain't broke, don't fix it" principle and don't think the writing team needs to make radical changes. I am sure that I am not the only one that waxed nostalgic over the throwback episodes. I am sure that I am not the only one who has watched one of the episodes and said, "I wish they would do that now!" I am hoping that I am not the only one that's looked at these old episodes for inspiration of how things could still be.
Dan J Kroll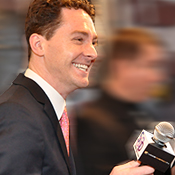 What are your thoughts on The Young and the Restless? What did you think of this week's Two Scoops? We want to hear from you -- and there are many ways you can share your thoughts.