It's a fact of daytime television -- characters never die. Well, sometimes they do die - and actually stay dead.
Rick Hearst's dramatic exit last month as Matt Clark appeared to be the end of his stint on The Young and the Restless. In fact, it was reported to Soap Central that competing soaps were chomping at the bit to sign Hearst to a contract.
Those contracts will have to wait. Hearst isn't done yet at Y&R.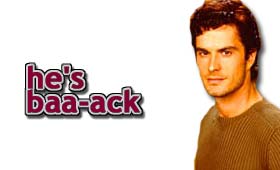 According to a Y&R spokesperson, Hearst will return to Genoa City on a "recurring basis [this] summer." More than likely as you read this, you're asking yourself, "How is that possible? He's dead!"
Matt was last seen on-screen ripping out his breathing tube and forcing it into Nick Newman's hand, to frame him for his death. Matt was later pronounced dead. In spite of his wicked character, Hearst was a huge hit with Y&R viewers.
At this point, exactly how Hearst will return is unknown. A source tells Soap Central that the most likely scenario is that Matt will appear as a ghost. In doing that, fans won't have to cope with a "back from the dead" storyline. Another possibility is that Matt will have a look-alike whose presence would surely creep out some of Genoa City's residents.
A recent Soap Central poll had respondants split on how Heart would return. An equal amount of voters felt that Matt's look-alike would return or that Matt would return as a ghost. 13% of those voting said that they thought that Matt wasn't really dead.
An exact date for Hearst's return has not been officially announced.