According to at least one show insider, Melody Thomas Scott (Nikki) has left The Young and the Restless -- for good.
On July 16th, the actress was spotted getting some assistance hauling her personal belongings out of her dressing room at the Y&R studios. The move took place during work hours rather than at the beginning or the end of the tape day.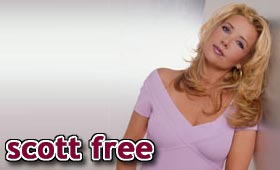 Scott has reportedly been in contract talks with the show since the springtime. With Scott's contract set to expire in August, the show apparently thought it had time to reach an agreement. Talks between the show and Scott were said to have kicked into high gear in July when it was believed that there might not be enough time for the two sides to reach an agreement at the previous pace. According to a source within the show, Scott was asking for "too much." It is unclear if the reference refers solely to monetary terms -- or just general demands for the new contract.
Scott was slated to leave the show for a time anyway. The actress is involved in a three-week stint of The Vagina Monologues. Her gig with Monologues ends on August 19th.
It is not yet known if the two sides have ended talks for good... or if there is a possibility that more talks could be scheduled at a later date. The sticking point on the deal is apparently not financial; Scott is said to want a front-burner storyline. Scott joined the show in 1979, but in recent months the actress has had very little screen time. When the news of Scott's contract talks first surfaced, Y&R head writer Kay Alden claimed that the writers had several key storylines for Nikki slated for the fall.
Always prepared for any emergency, the Y&R writers have reportedly written a storyline that will not require Nikki's presence. That way, if Scott leaves the show will not have to shuffle story ideas to explain why she's not on the screen. The storyline also leaves an opening for Nikki to become involved in the storyline in the event that Scott does sign a new contract.
Also not out of the realm of possibility is a recast of the role. While Scott is a favorite among Y&R fans, the writers may feel that the character of Nikki Newman is too vital to be simply written out.
Upon initial reports that Scott could walk were rumors that General Hospital was interested in signing the actress if she failed to come to terms on a new contract with Y&R. ABC declined to comment on its reported interest in Scott.