According to a published report, Melody Thomas Scott (Nikki Newman) will remain on The Young and the Restless. The report has been confirmed in a very brief statement by a Y&R spokesperson.
Scott has been engaged in contract talks with the show for several months. As the deadline for contract renewal drew closer, the talks reportedly became extremely intense. Last month, Scott was seen clearing out her dressing room.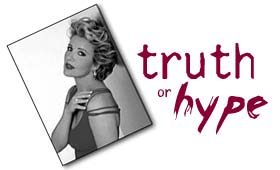 When contact by Soap Central, a Y&R spokesperson issued the following statement regarding Scott's status with the show. "She's staying," the publicist's Email read. It was perhaps the shortest comment ever given -- and surprisingly curt considering the importance of the situation.
Earlier this month, an insider told Soap Central that Scott and show execs had reached an impasse in the negotiations. "She's wants too much," the insider noted cryptically, declining to speculate if the stalemate was over monetary terms.
Currently, Scott is appeared in a production of The Vagina Monologues, for which she has taken an expected two-week leave from the show. Y&R writers had developed a storyline that did not feature Nikki just in case the actress decided to leave the show.
The Internet has been abuzz for the past few days that Scott's supposed leave was nothing more than a publicity stunt for the program. "Look at how much free press they've gotten," groused one message board poster. "Maybe part of her new contact was to get her dressing room repainted and that's why she moved out all her things," sassed another.
A spokesperson for the actress did not immediately return phone calls for comment on this story.