Diane Jenkins will be returning to Genoa City this fall, but she'll have an entirely different look.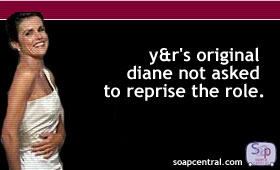 Long-time Y&R veteran Alex Donnelley will not be reprising the role she created in 1982. Instead, the show has tapped Susan Walters for the part. Donnelley exited Y&R this past February.
When asked why the role had been recast, a Y&R spokesperson told Soap Central, "The show is taking the character in a different direction."
However, Internet chatter, as you might expect, has a different take on the recast. In the first scenario, Donnelley is said to have chosen not to return the show. Her departure earlier this year was called "oddly timed" by at least one insider. Donnelley's character, Diane, was in the midst of a major storyline -- and suddenly the plot was wrapped up and Diane was gone. In a second scenario, Y&R head writer Kay Alden and executive producer Edward Scott are said to have had a disagreement over the way that the character should be used. It's unclear if this is the case, but the pair was involved in a much publicized disagreement earlier this year over the fate of another character, Sean Bridges. The resulting argument resulted in the popular Christopher Douglas being axed.
The truth of the matter is, however, that Donnelley was not contacted to return to the show, a decision Donnelley calls "disappointing."
Walters, the actress tapped to take over the role of Diane Jenkins, is not a newcomer to daytime television. She played Lorna Forbes Conway on Loving from 1983-1986. Walters has also appeared on Hotel, Melrose Place, and the CBS drama series Family Law. She will make her first on-air appearance in November.