Another World veteran Diego Serrano (ex-Tomas Rivera) has joined the cast of The Young and the Restless. It had been believed that Serrano would play the role of a character named "Dante." That character has since been renamed to Diego -- and given a last name: Guittierez.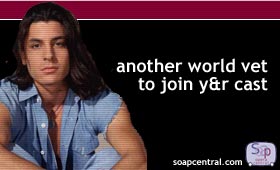 In addition to his work on Another World, the 28-year-old Ecuadorian-born Serrano appeared opposite Jennifer Love Hewitt in the short-lived FOX series Time of Your Life. His film credits include appearances in The 24 Hour Woman, Mixing Nia and Class of 1999 II: The Substitute.
It is still believed that Serrano's character is one and the same with Dante. When the casting call was made earlier this year, Dante was described as a "gorgeous, Hispanic male" in his mid-20s. "He's genuine and caring," read the casting description, "but has learned to sail through life on his good looks."
With the mention of Diego's last name, it is clear that he will be related to Raul (played by David Lago).
Serrano's first airdate is scheduled for December 13th.